HPWREN 2021 - 2022 Accomplishments
February 19, 2023
This is a summary of the HPWREN 2021 and 2022 accomplishments. The impact of the 2020 Covid outbreak continued to be felt throughout 2021, while all but diminishing during 2022. Despite related challenges,  HPWREN continued to make good progress, including increased bandwidth and network reach, as well as updated technologies. HPWREN accomplishments during this period, in addition to ongoing routine maintenance and repair of infrastructure, included the build out of new camera and network backbone sites with new Ubiquiti and Siae radio equipment, expansions beyond San Diego County into Orange and Riverside counties, and major upgrades to  our networking and storage infrastructure. This ultimately culminated in the adoption of AWS cloud storage services.
I. Awards and grants
Support from UCSD Calit2 PRP to expand storage:

Funded two storage servers at SIO to support a new HPWREN distributed storage system
Funding matched by HPWREN to fund 2 additional storage servers
Enabled the transition to AWS for initially the HPWREN's Long Term Archive

Support from SDG&E Resilience Program

Expanding HPWREN connectivity regional coverage, reliability and resilience:

Upgraded sites at Red Mountain, Coronado Hills, Mt. Woodson, and Birch Hill
Improve resilience of Cuyamaca Peak infrastructure to ice damage
Set up new camera sites at Lake Wohlford, Rincon del Diablo, Buffalo Bump, SMER Highlands, SMER Overlook, and Sky Oaks Jolly Roger Relay
Upgraded the HPWREN backbone link between Monument Peak and North Peak from 170 Mbits/sec to 1.4 Gbits/sec.

Support from San Diego County Board of Supervisors - Projects completed

Backbone Links:
- Mt Woodson to North Peak 604 Mbit/sec
- Monument Peak to Cuyamaca 1.4 Gbit/sec
- North Peak to Cuyamaca 1.4 Gbit/sec
- SDSC to Cuyamaca 1.4 Gbit/sec
- SDSC to Woodson 694 Mbit/sec


Camera Sites:
- White Star
- Cuyamaca
- Mesa Grande
- Volcan
- Birch Hill

Support from ALERTCalifornia



Over the past two years, HPWREN has strengthened its partnership with the ALERTCalifornia Program. Starting in 2016 the ALERTWildfire consortium deployed pan-tilt-zoom (PTZ) cameras across California, Nevada and Oregon. During this time of rapid growth, ALERTWildfire grew to include more than 800 PTZ cameras while including near-infrared capabilities. ALERTCalifornia started in 2022 as an outgrowth of ALERTWildfire.

As a state-specific program, ALERTCalifornia is focused on California wildfire monitoring and research efforts. California has more than 163,000 square miles of diverse terrain that requires adaptive fire management across government agencies and novel research. ALERTCalifornia is positioned to work with government agencies, utilities and universities to meet state-specific needs and provide the data required to fill knowledge gaps and inform management decisions. HPWREN has two roles in ALERTCalifornia. The first role is hosting 89 ALERTCalifornia PTZ cameras,and the second is managing the core ALERTCalifornia networking system.
II. HPWREN Sensor Data Use Cases
HPWREN enables end users to utilize the image and collected sensor data to create interesting results. Access to HPWREN data archives is outlined at http://hpwren.ucsd.edu/news/20210318/  Some of the  examples include:
III. ASAPNET
Advanced Situational Awareness for Public Safety Network (ASAPNet) is a wireless network primarily serving fire stations in remote areas of San Diego County. ASAPNet is an extension to and utilizes UCSD's High Performance Wireless Research Network (HPWREN) as the "backbone" wide area network. Currently ASAPNet comprises 56 fire stations, and 12 relay sites originating from 19 mountaintops in San Diego County.
IV. Public Safety Service Improvements
New back county resource centers were established by SDG&E and provided Internet access by HPWREN. These Community centers are activated as part of the Public Safety Program when power is dropped in the area during red flag warnings. These Community Centers include:
Dulzura Community Center - Internet access provided via Lyons Peak

Lake Morena Community Church -Internet access added via Los Pinos

Potrero Community Center -Internet access added via Los Pinos

Pine Valley Improvement Club - Internet access added via Cuyamaca Peak
From a wildfire observation perspective, many existing sites received new and/or upgraded cameras, and new sensor sites were added to the network. In some cases radio links of existing sites were upgraded as well. In addition, the HPWREN regional wireless backbone underwent numerous expansions.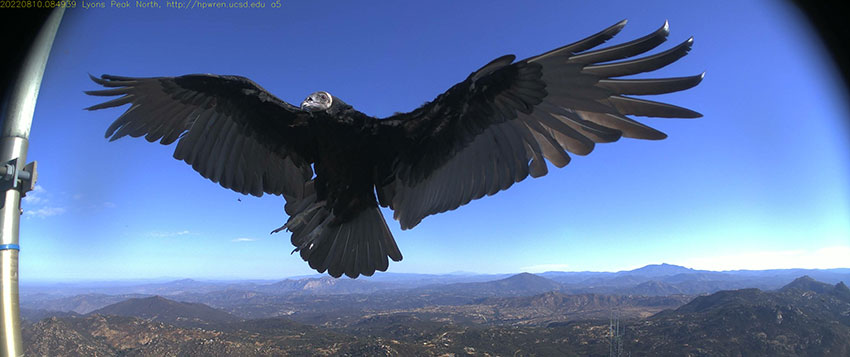 In support of the growing ALERTCalifornia community, HPWREN provides high quality Internet connectivity using fixed wide area wireless technology connected to multiple regional Internet gateways at sites in San Diego, Orange, Los Angeles, Riverside and Santa Barbara Counties. In partnership with ALERTCalifornia and LA City Fire Department, the following new camera sites were deployed in the Santa Monica Mountains:
San Vicente Peak
Westridge
Canyonback
Mt. Lee (Hollywood)
Temescal Water Tank
In partnership with ALERTCalifornia, the following new camera sites were above the Owens Valley:
Silver Mountain, partnering with the Bishop Fire Dept
Marzano, partnering with the Big Pine Fire Dept
HPWREN new or upgraded camera sites, by region, include:
San Diego County

Coronado Hills
Cuyamaca Peak
Los Pinos
Lyons Peak
Otay Mountain
San Miguel
Santa Margarita Ecological Reserve
Sky Oaks
Red Mountain
Volcan Tract III
Mesa Gande
Buffalo Bump
Rincon Del Diablo (Escondido)
Tijuana Estuary

Orange County
Los Angeles

San Vicente Peak
Westridge
Canyonback
Temescal
Mount Lee

Riverside County

Toro Peak
Lake Perris
Santiago Peak

Major wireless network and backbone improvements:

Sky Oaks - upgraded links to
69 Bravo - new or upgraded links to

Green Mountain
Temescal Water Tower

Coronado Hills - new links
Buffalo Bump - new links to

Red Mountain
San Juan Hills

Red Mountain - new or upgraded links to

Rainbow
Buffalo Bump
Santiago Peak

Cuyamaca Peak - new or upgraded links to

Los Pinos
SDSC
North Peak
Monument Peak

SDSC - new links to

Boucher Hill
Cuyamaca Peak

Santiago Peak (CalOES tower) - new links to

Red Mountain
UCI
Lake Perris

Signal Peak - new links to

Laguna Hills (Orange County)
UCI
Upper Talega

UCI - new links to

Santiago Peak
Signal Peak
V. IT Infrastructure Improvements
HPWREN has been systematically upgrading wireless network radios to support additional throughput and broader connectivity (see Section IV). Worth noting is the migration to more modern Siae Microwave communications equipment on more than a dozen links.
On the storage front, numerous storage evaluations and improvements have taken place. Being significantly pressed for image capture (near term) storage, incremental storage of around 100 Terabyte was added to our archival servers.
We invested in additional local storage servers and investigated options for building a new distributed storage system. Ultimately, we decided to use our new server hardware to provide improved processing and storage power for our camera image fetch workflows (currently done predominately on VMs). This addresses our shorter term storage needs. We are now adopting cloud storage for our longer term storage requirements. Adoption of AWS Cloud storage, enabled via Calit2, was begun to provide regional storage independence and high availability to our users. The system has been designed and initially adopted in late 2022 for bulk storage. The new storage system will initially host archival data and eventually provide various web accessible data services, including to students.
Website improvements this year include significant improvements in performance and navigation. The camera banner page is more responsive to screen changes such as resizing or rotation, adding more support for various device types, sizes and display capabilities. The "details" pointers refer to more information about the camera or camera collage at specific sites. The cameras are now sorted alphabetically, and different sort order options will be added over time.
HPWREN routers at SDSC/UCSD and UCI have been upgraded to 2x20GigE throughput capabilities.
We have incorporated Netbox among our software tools to help keep track of various software, hardware and networking configurations.
VI. Public Outreach
The many ways we have reached out to the public this period include:
Posted numerous interesting and informative YouTube videos
See 25 or so 2021 and 2022 videos (animations, split screens, surround views, etc.) of fires and interesting events captured by HPWREN cameras at https://www.youtube.com/user/hpwren/videos
Posted new content on the website
Read more about HPWREN accomplishments, cameras, fire monitoring, in 2021 and 2022 news articles at http://hpwren.ucsd.edu/news/.
Boosted social media presence and increased followings on:
Significantly improved user interface to HPWREN web site
VII. Research and Development
HPWREN infrastructure supports a variety of research and education projects and we are always looking for new ways to do things or new capabilities to add. The more significant activities this period include:
Completed proof-of-concept generation "getcams" image fetching environment development, including testing with multiple distributed storage options across regions. The experimental system ran as a service, spawning and maintaining a single, long running process per camera. We have been able to handle concurrent fetching from 150 cameras once per minute using a single 4 Core 4 GB VM. The system allows image load to be spread across multiple servers as needed to support flexible scaling. The prototype system has been tested at both UCSD and UCI. There is also a container based version of the getcams system that was developed in parallel. This system was originally anticipated to upgrade legacy systems as deemed appropriate.

Building on the "getcams" system, the PRP (Pacific Research Platform) and Calit2 (at UCSD and UCI) established an experimental Calit2@UCI repository for Orange County HPWREN fire camera images. This Calit2/HPWREN collaboration was initially implemented during 2020 on a virtual machine environment, and expanded and integrated into a container based application in 2021. The container based and VM based applications share common source code and configuration files. Their UCI implementation supported Orange County camera images that were fetched, stored and published using NextCloud @UCI. NextCloud supports camera image exploration, access and bulk download using a point and click web based interface.

Late 2022, with camera images provided by the Valley Center Municipal water District (VCMWD), HPWREN is experimenting with 180 degree images, with the initial proof-of-concept via cameras at Sierra Rojo. Next steps include HPWREN testing updated of new camera technologies, perhaps including IPC-PFW8601-A180 and Axis Q3819-PVE 180 degree systems. Further panoramic testing is also planned using the Axis 6010 E 360 camera.
VIII. Anticipated 2023 Activities
Projects left over from 2021/2022 include
Saddleback site construction and backup CENIC network access for HPWREN

High Point upgrade

Little Black upgrade

San Marcos Peak installation

Tecate Peak installation

Riverside County camera sites