2020 HPWREN Accomplishments Including One Year Under Covid
April 5, 2021
2020 was a year to remember for HPWREN and everyone else. The first two and a half months were fairly normal with routine maintenance and upkeep to maintain services through the winter months when generally there is little fieldwork. One significant accomplishment was the installation of the SDGE supported San Juan Hills site including ALERTWildfire and HPWREN cameras in January 2020.
March 17, 2020, marked the beginning of the Covid lockdown in California, reducing field work activities to essential activities to keep HPWREN, ASAPNet, and ALERTWildfire cameras functioning, while all personnel sheltered in place at home working remotely. During the following year, HPWREN adapted to each new set of restrictions and requirements while keeping services working and making strategic improvements to the system. In the light of one year under Covid, this somewhat late annual report will cover through the first year of Covid restrictions.
In spite of the challenges, this past year had some major accomplishments. Two of our most challenging sites (Toro Peak and Lyons Peak) were rebuilt. In addition, Los Pinos was also rebuilt, completing the goal of providing more resiliency to the southern part of HPWREN. From a wildfire observation perspective, Cuyamaca Peak, Otay Mountain, San Miguel, and Sagebrush Flats received new and/or upgraded cameras. In partnership with ALERTWildfire and LA City Fire Department, five new ALERTWildfire camera sites were deployed in the Santa Monica Mountains. The newly installed sensors at Cuyamaca Peak and upgraded sensors at Lyons Peak both provided enhanced situational awareness during the Valley Incident that burned in the Cleveland National Forest and CAL FIRE San Diego Unit in September, 2020. This included data provided through new weather sensors, Mobotix Cameras, and the ALERTWildfire Axis cameras.
One of the remarkable attributes of HPWREN is the ability for end users to utilize the data collected through HPWREN to create interesting results. In 2020, Prof. Robert Quimby, Director of the Mt Laguna Observatory, created interesting videos using HPWREN cameras highlighting basic astronomical observations such has how the sun moves over an annual cycle, the motions of planets against the fixed stars, the movement of Comet Neowise, and others.
Overall, 2020 was another busy year for HPWREN. This article highlights significant activities undertaken in 2020 and some predictions for early 2021 activities.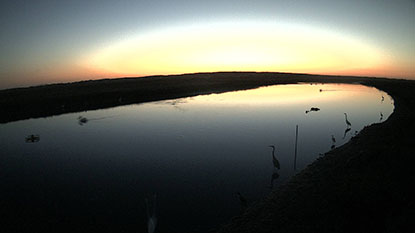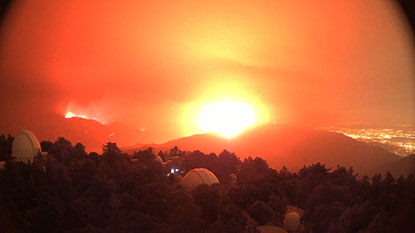 The above automatically collected images via HPWREN cameras show birds in the river at the Tijuana Estuary, and the 2020 Bobcat Fire near the Mt. Wilson Observatory.
I. Awards and grants
Support from UCSD Calit2 PRP

Funded, along with Calit2@UCI, a 2 node HPWREN VM management cluster and storage array at UCI for the Orange County Camera Image Project
Funded two FIONA storage servers at SIO to support a new HPWREN CEPH distributed storage system

Support from SDG&E Resilience Program to

Improve Resilience of HPWREN connectivity
Improve Reliability of ASAPNet relay stations
Provide additional wildfire cameras in SDGE service area in San Diego and Orange Counties

Support from SD County Board of Supervisors for the upgrade of five backbone links and the addition of five new camera sites
II. Public Safety Service Improvements
HPWREN has added new fire cameras, new WiFi capabilities, new fixed wireless links, and various network upgrades to allow for increased bandwidth to our systems from our collaborators. For more specific network upgrade details, see the section below "IT Infrastructure Upgrades, Services and Support".
New wildfire camera sites established or upgraded …

Orange County Installations
Los Angeles City Installations
San Diego County Upgrades

Cuyamaca Peak
Los Pinos
Lyons Peak
Otay Mountain
San Miguel
Santa Margarita Ecological Reserve

Riverside County Upgrades

Toro Peak
Sagebrush Flats

Provided wireless network connectivity for ALERTWildfire camera sites

LA City

San Vicente Peak
Westridge
Canyonback
Temescal

San Diego County

In support of the growing ALERTWildfire community, HPWREN provides high quality Internet connectivity using fixed wide area wireless technology connected to multiple regional Internet gateways at sites in San Diego, Orange, Los Angeles, and Santa Barbara Counties.
III. Public Outreach
The many ways we have reached out to the public this past year include:
Posted numerous interesting and informative YouTube videos

See 45 or so 2020 videos (animations, split screens, surround views, etc.) of fires and interesting events captured by HPWREN cameras at https://www.youtube.com/user/hpwren/videos.

Posted new content on website

Read more about HPWREN accomplishments, cameras, fire monitoring, in 2020 news articles articles at http://hpwren.ucsd.edu/news/index-2020.html.

Boosted social media presence and increased followings on:
IV. IT Infrastructure Upgrades, Services and Support
Infrastructure improvements in 2020 include:
Added 126TB of storage to production camera image web servers (72TB on c1 and 54TB on c2) providing a c1+c2 total of 375TB

Received permission from CalOES to use their Santiago Peak tower, allowing the establishment of Santiago Peak as an HPWREN radio gateway linking Orange, Riverside and San Diego counties using fixed wireless technologies. This also paves the way for additional HPWREN wireless/CENIC cross county path diversity provided by UCSD, UCI, UCR and SDSU campuses

Upgraded antennas and radios at

Mesa Grande
Lyons Peak
Sky Oaks

Refreshed backbone equipment at existing sites. Equipment included routers, switches, power supplies, cabling, UPS etc.:

Otay
PSC
San Miguel
Toro Peak
Lyons Peak
Los Pinos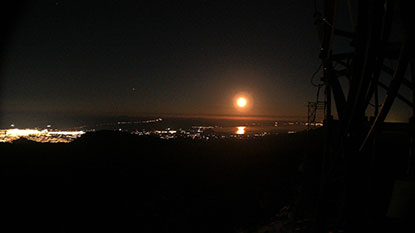 The images show the moon rise over the Salton Sea as seen by a Toro Peak camera and a north pointing camera on Big Black Mountain observing a UFO flyby.
V. Research and Development
HPWREN infrastructure supports a variety of research and education projects and we are always looking for new ways to do things or new capabilities to add. The more significant activities this past year include:
The HPWREN Fire Ignition Library (FIgLib) uses sequences of wildland fire images as seen from fixed cameras at HPWREN sites. It contains hundreds of such sequences of different fires or different cameras, where a camera may even be separate imagers for color, or monochrome with more light and near-IR sensitivity. The primary purpose of this large archive, many gigabytes in size, is the creation of baseline data sets for 40 minutes before and after individual fire ignitions for neural network training, including neural network based detections of wildland fire ignitions based of content within a single or across multiple images. See http://hpwren.ucsd.edu/HPWREN-FIgLib/ for more details.

This data set was significantly enhanced during 2020, and HPWREN has collaborated with multiple researchers and developers who are applying to to training neural networks. In addition, the UCSD WIFIRE (wifire.ucsd.edu) project and NSF Sage (sagecontinuum.org) orchestrated a collaboration with the Argonne National Laboratory (https://anl.gov/), where ANL is undertaking the laborious task of labeling the hundreds of fire ignition sequences currently in FIgLib.

Continued next generation "getcams" image fetching environment development, including testing with multiple distributed storage options across regions. The experimental system runs as a service, spawning and maintaining a single, long running process per camera. We have been able to handle concurrent fetching from 150 cameras once per minute using a single 4 Core 4 GB VM. Image load can now also be spread across multiple servers as needed to support flexible scaling. The prototype system is being tested at both UCSD and UCI.

PRP (Pacific Research Platform) and Calit2 (at UCSD and UCI) are supporting the establishment of a Calit2@UCI repository for Orange County HPWREN fire camera images. This Calit2/HPWREN collaboration was proposed near the end of 2019 and implemented during 2020. This experiment supports

UCI/OCFA collaboration on fire ignition detection (using machine learning techniques)
Semi-production deployment of HPWRENs next generation image fetch system

PRP (Pacific Research Platform) and Calit2 (at UCSD and UCI) are supporting the establishment of a Calit2@UCI repository for Orange County HPWREN fire camera images in support of machine learning investigations. This Calit2/HPWREN collaborative project was proposed near the end of 2019. This experiment will support

UCI/OCFA collaboration on fire ignition detection

Semi-production deployment of HPWRENs next generation image fetching system

Semi-production deployment of CEPH distributed object storage technologies

Semi-production deployment of getcams system in distributed image fetch operations

Orange County cameras fetched, stored and published using NextCloud @UCI
Other cameras fetched, stored and published suing NextCloud @UCSD

Production usage of NextCloud for camera image exploration, access and bulk download
VI. HPWREN 2020 ticket support system summary
450 Jira support tickets completed
549 Jira support tickets created
71 HPWREN service reports filed for field work
2021 Opportunities
Early 2021 new fire camera site installations are anticipated for
Tijuana River Estuary
Mt Lee
Chino Hills
Lake Wohlford Airport
Rincon del Diablo water tank
Anticipated 2021 Backbone site completions or upgrades
Santiago Peak
Cuyamaca
Red Mountain
Boucher Hill
Developments in future generation of camera image fetching technology
Prototype of next generation camera image fetch system, "getcams", will continue to be tested for all HPWREN camera types at both UCSD and UCI
Storage development
Given 2020 experiences with both CEPH and EdgeFS distributed object storage systems feasibility for HPWREN, CEPH has been chosen as the preferred system going forward.
A new HPWREN CEPH system will be designed and built in early 2021.
The new storage system will span UCSD, SDSC and UCI and be initially used at UCI for the role of supporting research access to Orange County camera images