previous year - next year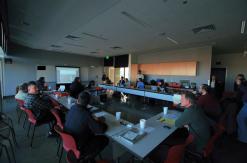 December 31, 2011
The 2011 10th Annual HPWREN Users Workshop was held at the U.S. Fish and Wildlife Service's San Diego Bay National Wildlife Refuge

Chantel Jimenez, Environmental Education Specialist at the USFWS's San Diego NWR Complex, hosted the 10th Annual HPWREN Users Workshop on December 9, 2011 at their Sweetwater Marsh location.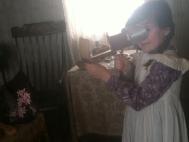 November 15, 2011
Third Graders Explore the Old Point Loma Lighthouse via HPWREN LIVE

On November 15, 2011, the HPWREN LIVE team worked with National Park Service interpreter Emily Floyd and eight-year-old NPS volunteer Elizabeth Bruch on a pilot LIVE activity between a third grade classroom at Del Mar Hills Elementary School and the Old Point Loma Lighthouse at Cabrillo National Monument.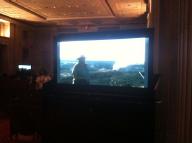 September 15, 2011
Journal of Interpretation Science Article Discusses HPWREN LIVE Activities at National Park Sites

The Journal of Interpretation Research recently published an article regarding the HPWREN LIVE team's work with two National Park Service sites. The article focuses on explorations involving a Native American Earth Lodge and a Hawaii Volcanoes Site.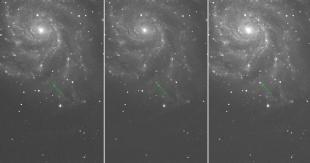 August 25, 2011
Berkeley Scientists Discover an "Instant Cosmic Classic" Supernova Supercomputing -- fast networks key to early discovery of explosion

A supernova discovered recently is closer to Earth - approximately 21 million light-years away - than any other of its kind in a generation. Astronomers believe they caught the supernova within hours of its explosion, a rare feat made possible with a specialized survey telescope and state-of-the-art computational tools. The finding of such a supernova so early and so close has energized the astronomical community as they are scrambling to observe it with as many telescopes as possible, including the Hubble Space Telescope.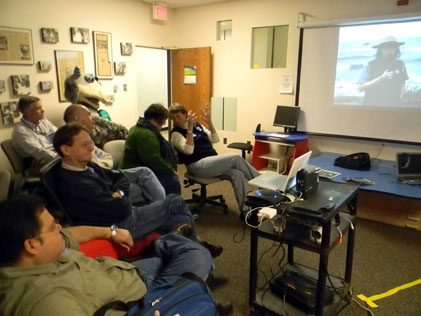 July 31, 2011
National Leadership Council of the National Park Service Visits San Diego via HPWREN

On a sunny February morning, from the bluffs above the Pacific Ocean, Tom Workman, Superintendent at Cabrillo National Monument, welcomes members of the National Park Service (NPS) National Leadership Council (NLC) to San Diego. The NLC in a computer lab at the University of Maryland takes a LIVE tour of Cabrillo National Monument. The NLC is composed of the NPS Director, Chief of Staff, Deputy Directors, Associate Directors, Regional Directors, and other Washington Office staff which consult on major policy and program issues important to the NPS.


June 26, 2011
Heavy metal on HPWREN: installation and repair of large antennas

Monika Braun created a short video about some of the HPWREN antenna installation challenges on mountain-top towers.


June 14, 2011
UC San Diego Receives NSF Support for Wildfire Modeling and Prevention

With a one-year grant from the National Science Foundation, UC San Diego researchers have opened a new phase for their SDFireSight project. They will develop a technical framework and computer models that will simulate the conditions that can spark a wildfire in San Diego's `backcountry'.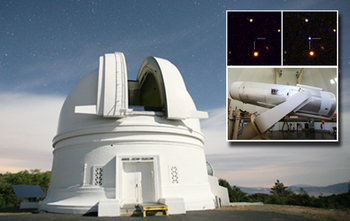 June 9, 2011
HPWREN helps Caltech-led Astronomers Find a New Class of Stellar Explosion

The Palomar Transient Factory survey currently taking place at Palomar Observatory is a real-time search for explosions of stars, known as supernovae. As of this date the survey has discovered 1,170 supernovae, including four unusual ones recently described.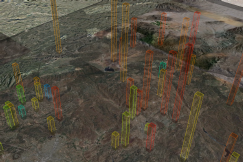 March 24, 2011
Experimental real-time Google Earth visualizations of SDG&E and HPWREN meteorological sensor data focuses on Santa Ana conditions

Visualizing meteorological data is a much more complex problem than it seems at first, specially if many metrics, many sensor stations, and many interpretation objectives are to be considered. To reduce complexity, while focusing on the real Santa Ana threat, the visualizations described here only focus on wind speeds and wind directions typical to such Santa Ana conditions.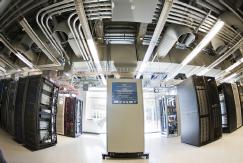 March 21, 2011
Meeting Peak Public Demand for Emergency Data in Rural Areas

Ahead of the next fire season in parched areas of southern California, research groups at the University of California, San Diego are building a scalable computer infrastructure to provide better access to camera feeds from rural areas when fires, earthquakes, flash floods or other natural disasters hit San Diego County.



March 14, 2011
HPWREN and ANR

After providing a wireless research platform and enabling cyberinfrastructure for more than ten years, HPWREN is entering a new phase of its life cycle.


previous year - next year