July 2, 2007
A Year in the Life of an HPWRENer

HPWREN technician and programmer James (Jim) Hale has been with the San Diego Supercomputer Center based team since 2002. First starting out as a volunteer (intrigued by the work conducted by his father Bud Hale on the project), Jim joined the team as a part-time electronics technician. During the past five years, Jim and HPWREN colleagues have worked alongside an array of collaborators ranging from the Scripps Institution of Oceanography and Cabrillo National Monument to the California Department of Forestry and Fire Protection and San Diego Sheriff's Department.

"Before joining the HPWREN team, I worked as a network engineer and that was great. However, the experience that I have gained over the years with HPWREN have allowed me to expand my skills in both programming and on-site wireless deployments," says Jim. "I am really pleased to be a part of this team that has connected so many hard-to-reach science and education sites over the past five years."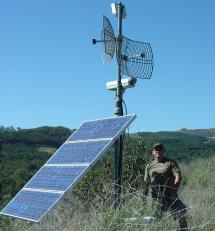 June 7, 2007
Monkey flowers, river water, and soil health...

...are only three of the many sensors delivering real-time information from the Santa Margarita Ecological Reserve to scientists and students around the world - thanks to Pablo Bryant, a research technology manager at San Diego State University.
For the past seven years, Pablo has been leading a team that's creating a state-of-the-art network within the Santa Margarita Ecological Reserve.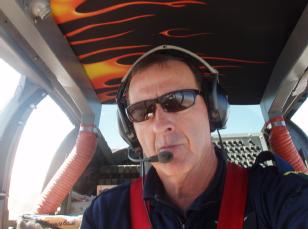 May 23, 2007
Smoke Signals: The Evolution of California Firefighting from the Eyes of Fire Captain Ron Serabia

Whether flying aerial attacks against wildfires or scaling towers to install wireless relays, southern California Fire Captain Ronald Serabia has been at the forefront of a transformation in emergency communications.
In this Live Science interview (related to a new National Science Foundation activity) by Kimberly Mann Bruch, Ron reflects back on his career - from before his earliest firefighting days to his recent work helping researchers with NSF's High Performance Wireless Research and Education Network (HPWREN) develop cutting-edge digital links connecting local command posts, the state capital, and firefighters' families during major wildfire disasters.