State of HPWREN Past, Present and Future
December 26, 2016
Overview
The High Performance Wireless Research and Education Network (HPWREN) provides Research, Education and Public Safety support over its San Diego County wireless network. It provides access to hundreds of sensors and instruments to the scientific community, network access to regional back county Fire stations and real-time public access to a multitude of cameras (color and near-infrared) across the County via the Internet (http://hpwren.ucsd.edu/cameras). HPWREN also provides public access to the data collected from their cameras and sensors, going back about 15 years. It uses data servers at UC San Diego (UCSD) to manage the network and provide processing, storage, publication and archival services. HPWREN has been updating its network, upgrading its servers, adding new cameras and sensors, and is now in the process of expanding north from San Diego County into Orange County. This article will offer an overview of the HPWREN Project, its current infrastructure, the server upgrade plans, its collaboration with the University of Nevada, Reno (UNR), and the expansion into Orange County.
Background
Today, HPWREN provides wireless communications support for cameras and sensors in the field via a radio based wireless network system using off-the-shelve equipment, while spanning San Diego County and beyond. Its back county radios are located at high elevations, with many of the sites also supporting collocated cameras, weather stations, and other sensors. A significant number of regional seismic sensors are also supported. HPWREN sensor and camera data is published in near real time at http://hpwren.ucsd.edu. Seismic data is available at http://anf.ucsd.edu/events. HPWREN also brings Internet access to the field in support of 60+ back country federal US Forest Service, state Cal Fire and county fire stations. Fire station network access and near real time camera images across San Diego County provide a significant public safety service to the community.
HPWREN was initially funded by the National Science Foundation (NSF) and has been built out from the San Diego Super Computer Center at UCSD in La Jolla since 2000. Over time, as NSF support dwindled, a user fee structure was created, which, along with San Diego County and San Diego Gas & Electric partnerships for the fire stations and sensor buildout, enable ongoing HPWREN support. The California Institute for Telecommunications and Information Technology (Calit2) has provided additional and ongoing equipment and staff resources and more recently the Corporation for Education Network Initiatives in California (CENIC) has also contributed support to HPWREN. The network currently covers most of San Diego and much of Imperial Counties and has extensions into Riverside County. It has wireless backbone speeds up to 200+ megabits per second on point-to-point radio based connections between mountain peaks. From those peaks it can extend wireless network access down into the lower elevations via directional or sector antennas, sometimes additionally using intermediate radio relays. Much of this rural area is still insufficiently covered by commercial wired or cellular internet, so HPWREN fills in critical voids.
Providing services for Research, Education and Public Safety
The network supports a wide range of applications, ranging from the transfer of high-volume astronomical data generated by the Palomar Observatory, to a steady output of continuous low-volume traffic from devices such as earthquake sensors and meteorological stations, delivering real-time data. HPWREN includes permanent sites as well as those created temporarily and on short notice, such as firefighter base camps and Incident Command Posts (ICP). HPWREN saw use at ICPs in several of the major wild fires to hit San Diego County across many years. Many meteorological stations are deployed which give real-time fine grained space and time weather data coverage, a number of which support up-to-the-second wind data. In addition to weather data (wind direction and speed, temperature, relative humidity, and fuel moisture) some of these stations also have soil moisture and rainfall sensors. A few sites support acoustic sensors as well.
The HPWREN network provides Internet access to over 60 regional fire stations and community access to both meteorological stations and 140+ high elevation cameras (color and near-infrared) around San Diego County. Coupled with a collection of servers at the Scripps Institution of Oceanography (SIO), the San Diego Supercomputer Center (SDSC) and Calit2 (all at UCSD), and some anticipated new ones coming on line at San Diego State University (SDSU) and the University of California Irvine (UCI), the larger community can access these data and image resources via public web sites and other modes of interaction.
Orange County HPWREN Network Expansion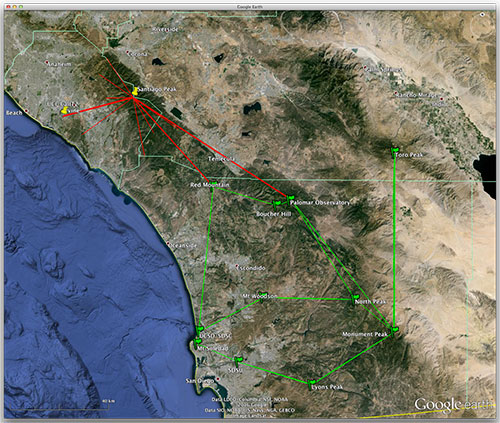 Partnering with the COAST group (Orange County Fire Authority, Cal Fire, Irvine Ranch Conservancy, San Diego Gas and Electric, Southern California Electric, UCI, California Division of Forestry and the National Forest Service), Calit2 UCI, Calit2 UCSD and CENIC, we are now bringing HPWREN resources into Orange County. Initial steps will include extending our wireless radio network into Orange County from Palomar Mountain to Santiago Peak and from there to UCI. The Santiago Peak connection provides a path to sensor and camera access in both Orange and Riverside Counties, and anchoring that portion of the network at Calit2 at UCI provides access to CENIC network resources and UCI HPWREN data services. Multiple sites are also identified for additional Orange County network links and cameras. Both Santiago Peak and UCI radio deployments are works in progress.
The diagram on the right shows the existing network in green and the expanded network in red.
Orange and San Diego County HPWREN Data Services Expansion
HPWREN has become a Pacific Research Platform (PRP, http://prp.ucsd.edu) project collaborator and is using their high speed optical network to link the HPWREN wireless network to servers at multiple universities, providing disaster recovery, web access surging in the event of major wildfires, and data set redundancy. There are currently engagements planned at UCI, San Diego State University (SDSU), UCSD, and, eventually, UC Riverside (UCR). Substantial progress has been made which includes the construction and deployment of high performance servers (also known as Data Transfer Nodes, or DTNs) at the above locations to support HPWREN services.
To date, 4 DTNs have been built, 2 of which are located at SIO (UCSD), and 1 each for UCI and SDSU. These DTNs will provide the following services to HPWREN and its user community.
Upgrades for legacy HPWREN camera image fetch, storage, publication and archival processing systems (as DTNs initially supplement and eventually replace older HPWREN servers)
High availability and redundancy of HPWREN data and services through their replication across three Universities and two Counties (DTNs are distributed geographically to provide ongoing data services in the event of a regional failure making other HPWREN sites unavailable, due to a major fire or earthquake, for example)
Proof of concept for a faster and more reliable data storage and access system (technically, the DTNs provide a test bed for a regionally distributed CEPH Object Store for improved data transfer and replication performance)
Provide easier access to past HPWREN camera image data. This is currently seen on the HPWREN data archive server, reachable at http://dl-hpwren.ucsd.edu/archive. This server allows for a "google-docs" -like user experience making it easier to find older camera data, select it, and download it to your own computer.
Washoe County, Nevada HPWREN/UNR Collaborations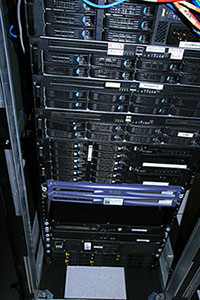 Collaborative proposals are also being put together by HPWREN and the Nevada Seismology Laboratory at the University of Nevada, Reno (UNR) for engagements in Nevada and California for new camera-based fire detection systems using machine vision and crowd sourcing technologies, all within a map-based user interface. Programmers from UNR and UCSD are building an ALERT San Diego system prototype based on HPWREN cameras and map-based user interface developments from UNR's ALERT Tahoe system at:
http://alerttahoe.seismo.unr.edu
(ALERT = Access to Leverage Emergency information in Real Time).
Summary
HPWREN is active and continues to expand and evolve. Services the community have been used to are increasing, such as more supported devices, sensors and cameras. Those services are being extended via the HPWREN network into neighboring counties. HPWREN data and services are being replicated across regions to make them more available in the event of emergencies and to improve their access.