This is a reprint of a San Diego County Supervisor Ron Roberts' office press release.
New High-Speed Backcountry Fire Station Broadband Network Unveiled
08/14/2013
Public and private officials gathered in San Diego today to announce the activation of a dramatically expanded Area Situational Awareness for Public Safety Network (ASAPnet), bringing high-speed, wireless digital communications and new emergency response capabilities to 60 backcountry fire stations as the region nears the peak of its fire season. The system uses as its backbone UC San Diego's High Performance Wireless Research and Education Network, or HPWREN, a network that is best known for its series of 360 degree mountaintop high-definition cameras that operate 24 hours a day.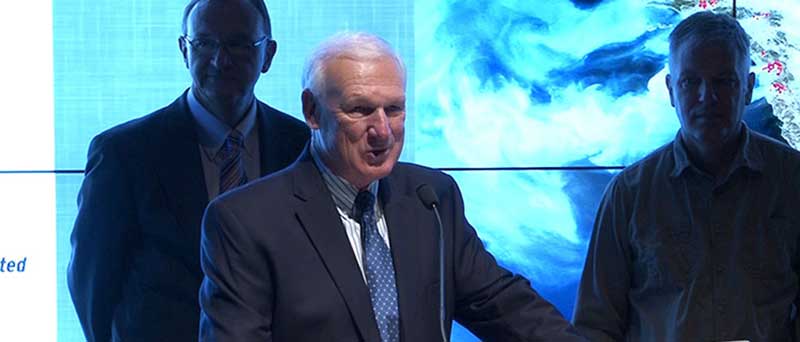 San Diego County Supervisor Ron Roberts announces growth of connected fire stations from 15 to 60 with the advent of ASAPnet. Pictured behind Roberts: SDG&E President Mike Niggli (left) and HPWREN director Hans-Werner Braun. Image courtesy of Qualcomm Institute/CalIt2.
ASAPnet is being developed as part of a larger, multi-purpose and multi-agency enabling network infrastructure that features numerous sensors, including cameras, microweather stations and earthquake monitors, all growing more capable thanks to new and improved Internet applications.
The expanded network was announced at UC San Diego during a press conference hosted by Ramesh Rao, director of Calit2's Qualcomm Institute and former chair of the National Research Council Committee on Using Information Technology to Enhance Disaster Management. The institute houses one of the world's highest-resolution display systems, which was used to showcase live and archived video, audio, still images and data from ASAPnet.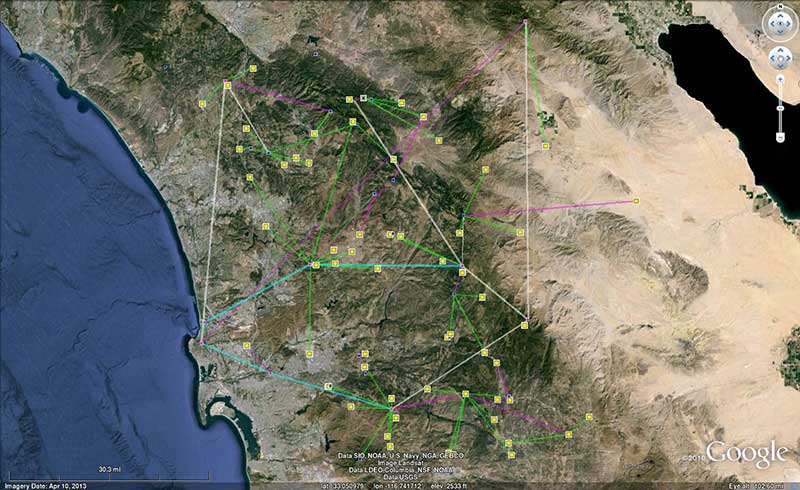 The ASAPnet (pictured as it stands today, with 60 connected fire stations highlighted in yellow) will grow by another 10 fire stations -- bringing effectively full coverage to the wildfire-prone county.
The HPWREN backbone of ASAPnet is directed by Hans-Werner Braun, a research scientist at UC San Diego's San Diego Supercomputer Center who, along with Frank Vernon, a seismologist with Scripps Institution of Oceanography, founded HPWREN in 2000.
Aware of the work being done on ASAPnet due to previous public safety partnerships with HPWREN, County Supervisor Ron Roberts in late 2011 brought officials with CAL FIRE and the San Diego County Fire Authority together with San Diego Gas & Electric (SDG&E) to talk about expanding an already cooperative effort. "The way these partners stepped up and committed technology and resources to help transform emergency response in our region is nothing short of amazing," Roberts said.
Braun already judges the partnership a success.
"It took us 12 years to get to 15 stations linked to ASAPnet, but just a single additional year to get to 60," says Braun, who personally conducted much of the field work, aligning mountaintop wireless antennas with those on remote fire stations, and working closely with multiple public safety agencies.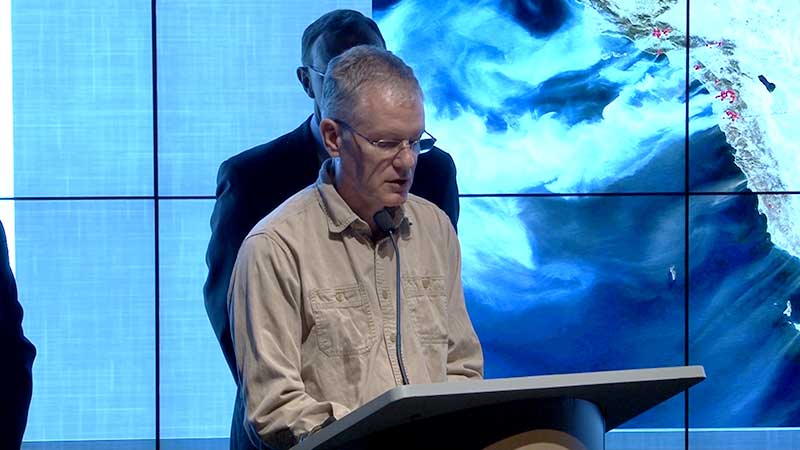 HPWREN director Hans-Werner Braun explains the infrastructure, including cameras and weather stations, that will now be accessible 24/7 at any of the 60 fire stations on ASAPnet. Image courtesy of Qualcomm Institute/CalIt2.
SDG&E was a key partner in the rapid development of ASAPnet. The utility has a substantial, and growing, network of remote sensing equipment in the backcountry, from nearly 150 weather sensors, the nation's largest and most advanced utility weather sensor network, to 29 solar-powered, high-definition video cameras along the Sunrise Powerlink route that automatically alert the utility to a perceived threat, such as smoke from the beginnings of a wildfire.
"What we are announcing today is a continuation of SDG&E's commitment to public safety and the protection of vital sources of energy," said Michael R. Niggli, SDG&E's president and chief operating officer. "Whether by harnessing the latest technology to enhance real-time situational awareness, or making sure the largest helicopter in the business is on hand to douse flames, we're pleased to be part of an outstanding level of cooperation to aid first responders and keep residents and communities safe this fire season."
The majority of the fire stations that directly benefit from ASAPnet are under the command of Chief Thom Porter, CAL FIRE San Diego unit chief and the San Diego County Regional Fire Authority chief.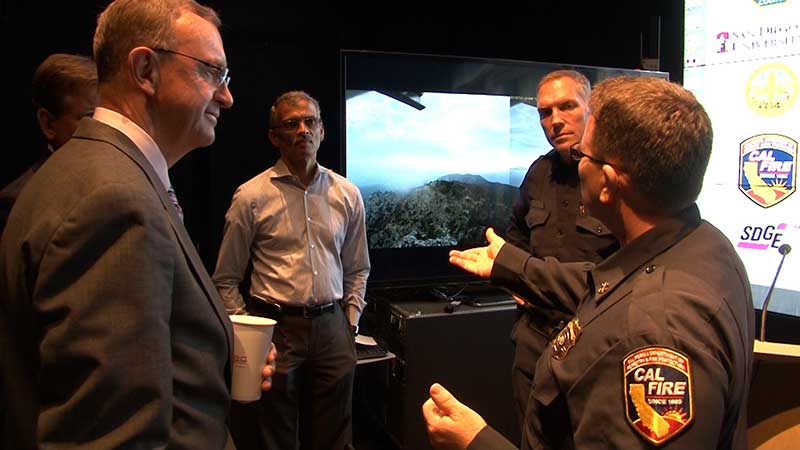 Public and private officials discuss plans ahead of Aug. 14 press conference, facing camera: (l-r) SDG&E President and COO Mike Niggli; Qualcomm Institute Director Ramesh Rao; and CAL FIRE San Diego unit chief Thom Porter. Image courtesy of Qualcomm Institute/CalIt2.
"Because of their remote locations, most backcountry fire stations have lacked broadband connections common at public safety operations and in many people's homes," said Chief Porter. "With ASAPnet operational, our crews can now take advantage of new capabilities, including rip-and-run printers already operating in 27 stations that quickly put information about emergencies such as vehicle accidents into responders' hands."
At build out next year, the network will connect 70 fire stations, including some operated by the U.S. Forestry Service.
During his 2012 "State of the County Address," Supervisor Roberts launched a major public safety technology initiative with his support of the Next Generation Incident Command System (NICS), which was followed by the release of a free, award-winning emergency app for smart phones/tablets and the Operational Downlink Informational Network infrared camera system for tracking fire lines through smoke. The build out of ASAPnet is an extension of that ongoing initiative.
"With these partnerships and technologies, we are improving public safety while providing greater tools and information to help safeguard the firefighters and emergency response personnel who we all depend on to confront and manage San Diego County's inevitable wildfires," said Roberts. "The model we are embracing, and the cooperation we are demonstrating, will serve as the model for 21st century disaster planning and response."

Contacts:
Tim McClain, Supervisor Roberts' office, (619) 694-6293, tim.mcclain@sdcounty.ca.gov; Doug Ramsey, Calit2, (858) 822-5825, dramsey@ucsd.edu; Nick Schuler, CAL FIRE, (619) 922 4528; Amber Albrecht, SDG&E, (858) 654-1796, aalbrecht@semprautilities.com

Hans-Werner Braun's Statement:
Hi. My name is Hans-Werner Braun. I am a Research Scientist with the UCSD San Diego Supercomputer Center, Director of the High Performance Wireless Research and Education network, and Adjunct Professor at the San Diego State University.
ASAPnet is a firefighter-access extension of the HPWREN network, created as a substantial public safety activity with private sector involvement via San Diego Gas and Electric.
It is a partnership activity across multiple government agencies, private enterprise, and academia, with the latter also including SDSU.
HPWREN itself was originally created in the year 2000 by SIO seismologist Frank Vernon and myself, as a National Science Foundation funded research project, which also supported science needs in astronomy, biology, ecology, geophysics, as well as Native American education activities and more.
Public safety related work already began on HPWREN in the early 2000's, an aspect that accelerated once the County of San Diego's Supervisor Office, via Supervisor Ron Roberts, got involved, and followed by the ASAPnet expansion via SDG&E collaborating and committing significant amounts of resources.
ASAPnet now covers an area of about 68 times 60 miles, or more than 4,000 square miles and currently includes about 60 firefighting agency sites at the County, State, and Federal levels. There are plans under way to add even more.
The new capabilities include permanent connections to firestations, as well as ad-hoc connections to base camps for major fires, or short-duration Incident Commands for small fires or other emergencies, if an ASAPnet mountaintop site is visible and within reach.
The system is complemented by environment-observing sensors, which, among other things, include:
Persistent real-time 360 degree multimegapixel camera views
Weather stations that even support once-per-second real-time wind data
Earthquake sensors as part of project partnerships
and so on. Several cameras and weather stations were provided by the County of San Diego or SDG&E.
Some results of at least the cameras use are displayed on the screens around here, and I can answer questions about them after the presentations.
In my opinion, the County, Cal Fire, SDG&E, and others deserve significant credit for their willingness to collaborate in this public safety partnership.
With that, I turn the microphone back to Supervisor Ron Roberts.