This is a reprint of a San Diego County news release
FIRE FIGHTING PREVENTION, INNOVATION & COLLABORATION
COUNTY, CAL FIRE, CITY, SDG&E AND UCSD INTRODUCE AND SHARE TECHNOLOGIES TO ENHANCE FIRE SAFETY
SAN DIEGO, Sept. 18, 2012 – Innovative emergency response equipment and technology were showcased today when San Diego regional leaders gathered at Montgomery Field airport to promote cooperative disaster response efforts among government, university and private sector agencies.
"San Diegans have a history of coming together during emergencies, as do local governments and private business," said San Diego Mayor Jerry Sanders. "That same cooperative spirit is on display here today, along with some of the most innovative fire fighting technology in the nation."
Supervisor Ron Roberts, chairman of the San Diego County Board of Supervisors, used the occasion to unveil an infrared video camera mounted underneath one of CAL FIRE"s OV-10A spotter aircraft. By picking up the heat-signature of a wildfire, the camera can "see" through smoke and develop a sharp image of the flames, showing hot spots and areas where the fire is spreading or dying down. A streaming video link and remote control allow fire commanders on the ground to point the camera and direct water drops or make strategic decisions in the overall firefighting effort.
"The images from this camera will improve firefighter safety and usher in a new era of real-time tactical information, regardless of the conditions," said Roberts. "The images also will be one more tool available as part of the Next Generation Incident Command System (NICS) platform that provides emergency responders unprecedented information about what is on the ground and where people and equipment are deployed."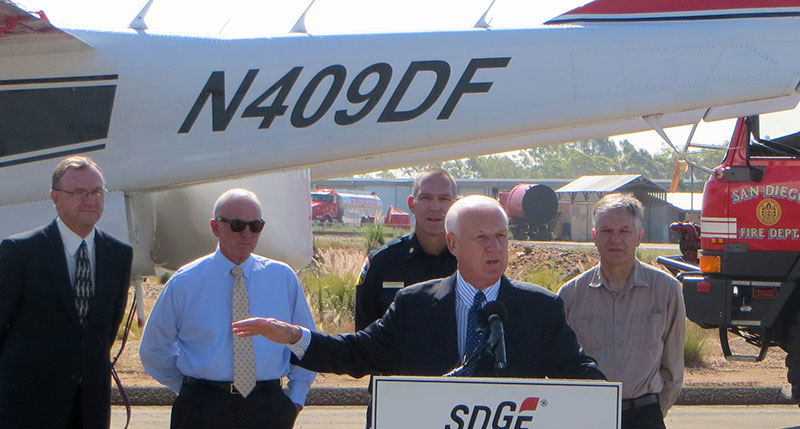 Supervisor Ron Roberts, chairman of the San Diego County Board of Supervisors, standing at the podium, with the other speakers behind him. From left to right are Michael R. Niggli, president and chief operating officer for SDG&E; San Diego Mayor Jerry Sanders; CAL FIRE's San Diego Unit Chief and County Fire Authority Chief Thom Porter; and Hans-Werner Braun, research scientist with UCSD and HPWREN director. - Photo by Gabriel Gutierrez.