April 9, 2010
SIO/ANZA: Magnitude Mw 7.2 (ml 6.9) quake near Guadalupe Victoria, Baja California Norte, Mexico
By Frank Vernon, UCSD/SIO Seismologist
Note: This is an adaptation of the http://eqinfo.ucsd.edu/special_events/2010/094/a/ web page.
The Anza group at the University of California San Diego operates a broadband seismograph network via HPWREN, consisting of 17 three component broadband seismograph stations centered near Anza, California (see map).
On Sunday April 4 2010 at 3:40 PM (PDT) we recorded an earthquake (preliminary Mw 7.2, ml 6.9) located near Guadalupe Victoria, Baja California Norte, Mexico. Many network stations, including Monument Peak (MONP2) - the closest station to the event - have their waveforms clipped due to the large magnitude of this event. Click here to learn why different magnitudes and different magnitude scales are used for earthquake solution calculations. Typically, for larger magnitude events, the Mw scale is the better magnitude scale to use.
Initial source parameters for this tremor are indicated below. The epicentral distance (i.e. the distance separating the epicenter and the closest station in the recording network) for Anza is 141 km (1.27 degrees).
| | |
| --- | --- |
| | This map shows the mainshock as a red star. Other epicentral solutions are orange stars. Anza network stations are yellow triangles. Blue lines are major rivers. Thin black lines are state boundaries and thick black lines are national boundaries. |
Event Parameters
The first solution listed is provided by Caltech. The second solution listed is provided by the Anza network.
Latitude
Longitude
Origin time (UTC)
Origin time (PDT)
Depth (km)
ml
Mw
Algorithm
Author

32.2950

-115.2740

04/04/10 (094)
22:40.42

04/04/10 (094)
3:40 PM

6.0

6.9

7.2

-

CICESE

32.5027

-115.5575

04/04/10 (094)
22:43.75

04/04/10 (094)
3:43 PM

6.0

6.9

7.2

locsat:iasp91

UCSD:rt
* The location and magnitude determined for this event are preliminary and are subject to change upon further review of seismic data.
Waveforms from Anza stations
Note: all images show the 3 components recorded by the Anza station, and are clickable for larger version. AZ_MONP2 shows the Anza station closest to the epicenter.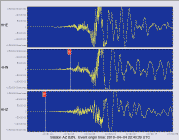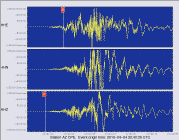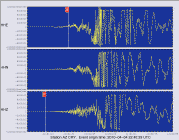 AZ_BZN
AZ_CPE
AZ_CRY
AZ_FRD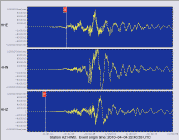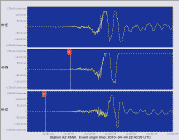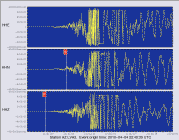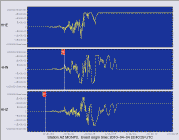 AZ_HWB
AZ_KNW
AZ_LVA2
AZ_MONP2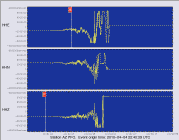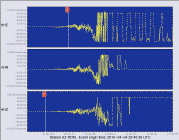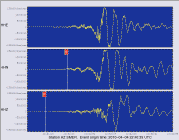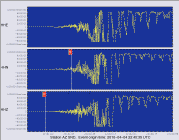 AZ_PFO
AZ_RDM
AZ_SMER
AZ_SND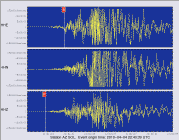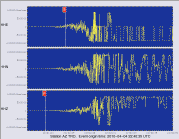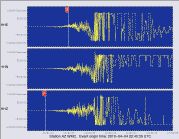 AZ_SOL
AZ_TRO
AZ_WMC
The following graphic shows the vertical components for all Anza stations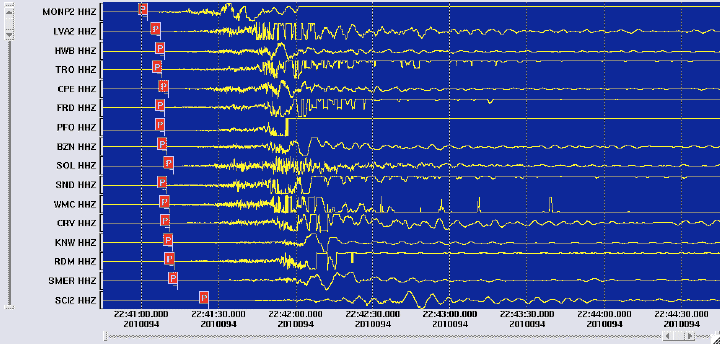 View the most recent map of local events near San Diego or a slightly wider regional view of events recorded by ANZA, or a map of events recorded by ANZA from around the globe.