December 25, 2009
Third Sea to Shining Sea Live Interactive Virtual Explorations workshop held in Connecticut
By Susan Teel, Director, Southern California Research Learning Center, National Park Service



The third Sea to Shining Sea (StSS) Live Interactive Virtual Explorations (LIVE) workshop was held on November 19, 2009 at the National Park Service's National Association for Interpretation (NAI) annual conference in Hartford, CT. The event was hosted by:
| | |
| --- | --- |
| HPWREN | Dry Tortugas National Park |
| Biscayne National Park | South Broward Maritime Magnet School |
| Mammoth Cave National Park | Santa Monica Mountains N.R.A. |
| San Diego State University FSP | Trillium Resources Group |
| Cabrillo National Monument | Mammoth Cave International Center for Science and Learning |
| Southern California Research Learning Center (SCRLC) | |
In preparation for the StSS LIVE workshop, Jim Hale and Hans-Werner Braun provided long distance support from California by testing and trouble shooting the LIVE systems at each of the five National Park Service sites. Pablo Bryant (San Diego State University), Evan Locke (SCRLC), and Joe Zev (SCRLC) prepared 20 backpacks, demonstration equipment, and tested Internet connectivity at NAI to ensure success at the NAI site in Hartford.
Pablo Bryant (left, image credit: Julia Washburn) at NAI during the demonstration. SCRLC Interns Joe Zev (middle-left) and Evan Locke (middle-right) met new friends during a conference break (image credit: Julia Washburn). Julia Washburn (right, image credit: Susan Teel), Trillium Resources Group, generously provided facilitation services for the demonstration and workshop.
Demonstrations
The session consisted of a ten-minute LIVE session at each of five National Parks across the United States. During each LIVE session, audience members interacted with the Rangers and requested various views of each park. The goal was to demonstrate the ease of use and mobility of the LIVE backpack distance education system, developed by HPWREN. The majority of audience questions related to the LIVE equipment and set-up. The LIVE backpack equipment list and instruction manual is available at: http://hpwren.ucsd.edu/20081113_NPS-TT-Workshop/Kimberly_Mann_Bruch/.
Dry Tortugas National Park
The first demonstration was begun by contacting Ranger Chris Ziegler at Dry Tortugas National Park, the most remote National Park Service (NPS) site in the continental United States. This park consists of seven small islands located approximately 75 miles from Key West, Florida and about 92 miles from Cuba. Therefore, the ability to conduct LIVE programs at this most remote NPS site demonstrates that the techology is viable to expand towards similar LIVE programs at any of the other 390 NPS sites.
Chris Ziegler (middle, image credit: Chris Ziegler - NPS) provided background on the islands of the Dry Tortugas (left, image credit: Julia Washburn), and historic Fort Jefferson (right, image credit: National Park Service).
Biscayne National Park
The second demonstration was to be hosted by Biscayne National Park and South Broward Maritime Magnet Program, however a lightning strike a few days before the workshop burned out the radios. Park staff was not able to complete repairs in time for the NAI conference. High School students built a remotely operated vehicle and planned to use it to explore the coral reef nursery at Adam's Key, a small island eight miles off-shore.
South Broward student-built ROV (left, image credit: Susan Teel) with onboard video camera. Shark tagging in Biscayne Bay (right, image credit: Leanne Winn).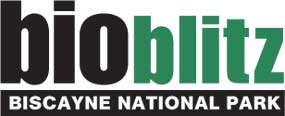 Biscayne Bioblitz LIVE April 30 to May 1, 2010
Image credit: National Geographic Society
Biscayne National Park will host Bio-Blitz 2010 and use multiple LIVE programs to engage citizen scientists across the nation in 24 hours of inventory activities both underwater and on land. HPWREN continues to provide technical expertise to the NPS and National Geographic Society towards planning and installing a wireless network at Biscayne National Park. This system will support underwater LIVE programs broadcast from a boat at multiple locations throughout the park and from the islands of Adams Key, Elliott Key, Boca Chita Key as well as the mainland.
Mammoth Cave National Park
NAI participants next explored the dark depths of Mammoth Cave National Park. The lights at the workshop were dimmed and audience members audibly gasped when, Shannon Trimboli, appeared in Mammoth Cave. NAI attendees quickly requested that the video be enlarged to full screen so they could better see the details in the cave. Shannon and Rick Toomey, Mammoth Cave International Center for Science and Learning, hosted the underground session and moved around the cave showing various cave features.
The Mammoth Cave (left, image credit: National Park Service) LIVE demonstration was hosted from several hundred feed below the Earth's surface in one of the lower levels of the system of caves. Shannon Trimboli (middle, image credit: Julia Washburn) spoke about the location of the demonstration and fielded a multitude of audience inquiries seeking details about the equipment and wireless system which enables LIVE programs from the Cave. Earlier in the year, Mammoth Caves hosted an underground LIVE program at the George Wright Society LIVE workshop (right, image credit: Shannon Trimboli).
Santa Monica Mountains National Recreation Area
Mike Theune led an interactive discussion with Ranger Mary Holmes located at a quiet mountain stream nestled in the Santa Monica Mountains of Malibu, California. Mary described the warm sunny weather and ecosystems in southern California. An underwater camera operated by interns Kevin Schallert and Nick DeRoulhac explored the rocky bottom of the stream. Left image credit: Julia Washburn, right image credit: National Park Service.
Cabrillo National Monument
The next session was conducted from the rocky intertidal area of Cabrillo National Monument in San Diego, California. Chief of Interpretation Karl Pierce (left, image credit: Julia Washburn) moderated questions posed to Ranger Jeff situated on the bluff above Cabrillo's shore. High tides prevented access to the tidepools, however LIVE programs from Cabrillo National Monument are usually hosted from a huge wireless bubble which includes most of the tidepool area (right, image credit: Susan Teel) managed by NPS.
The video quality at Cabrillo was quite noticeably better than the other sites, due to the connection to HPWREN which provides high bandwidth Internet connectivity. Unknown to the audience, during the demonstration the access point failed. We later learned that Jim Hale, HPWREN, had patched together the faulty access point ensuring superior video quality from San Diego.
LIVE Workshop
Credit for images: Julia Washburn
Twenty backpack sets were made available for workshop participants to borrow and try out. Participants began the hands-on portion of the workshop and familiarized themselves with the LIVE backpack equipment. Attendees formed groups of 2-3 people, reviewed the LIVE manual and assembled their backpacks. In less than 30 minutes most groups had initiated LIVE sessions with Dry Tortugas, Cabrillo National Monument, Mammoth Caves, or Santa Monica Mountains. Evan, Joe, and Ranger Rick assisted participants in assembly of the LIVE backpack and conducting their first LIVE program.
Credit for images: Julia Washburn
Workshop evaluations, which were submitted to HPWREN, were all quite positive with many compliments for the StSS team. Some of the comments received included:
need more time
incredible willingness to help
Great Job!
subpar video feed (but really good to see the range of quality)
liked the real-time demo and hands-on time with the packs
trainers very effective
helped me understand the technology especially how easy it is to use
liked the hands on and live feeds best

If we plan another workshop, it might be valuable to use technology implementations such as Polycom, Skype, and Elluminate to show a spectrum of video quality and options for point-to-point and point-to-multi-point video conferencing.

Thanks to all of our Sea to Shining Sea partners for another successful LIVE workshop.