June 11, 2007
The California Science Center utilized HPWREN to educate Museum Educators of Southern California
The Museum Educators of Southern California (MESC) held their Annual Institute on Interpretation on June 08, 2007 at the California Science Center. The conference title was "Teaching with New Technologies."
Chuck Kopczak, Curator of Ecology at the California Science Center, presented a talk titled "Distance Learning: Bringing the Outdoors (and Faraway) In." During this presentation live distance learning connections were made using HPWREN with the California Wolf Center in Julian, California and San Diego State University's Santa Margarita Ecological Reserve near Temecula, California. The California Wolf Center was represented by Kim Miller and SMER was represented by Spring Strahm.
Session participants were provided with an introduction to each institution and the opportunity to ask questions about the institutions and the topic of distance learning by the respective representatives. All participants found the information and unique learning opportunities offered by the live connections to be of great value.
Both distance linkages went very well. The few minor technological hiccups were handled smoothly by staff at both the Wolf Center and SMER. The ability of the session participants to see not only the educational program presented by each institution, but also engage the staff with questions about the technology involved really made for an excellent practical learning experience that really helped to de-mystify the topic of distance learning.
Wonderful teachable moments that happend during the connections included the chance to get extremely good views of live wolves, the search for a catfish with eggs in the Santa Margarita River, and watching a mated pair of great blue herons come in for a landing in the gorge at SMER. Very memorable experiences for everyone involved, and that is what informal science education is all about.
The California Science Center aspires to stimulate curiosity and inspire science learning in everyone by creating fun, memorable experiences, because we value science as an indispensable tool for understanding our world, accessibility and inclusiveness, and enriching people's lives.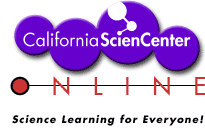 Charles D. Kopczak, Ph.D.
Curator of Ecology
California Science Center
Los Angeles, CA
---
back to top
back to HPWREN news