November 4, 2006
2006 HPWREN Annual Users Workshop presentation slides
This year's HPWREN Annual Users Workshop was held on November 3 at the Ramona Air Attack Base of the California Department of Forestry and Fire Protection in the hangar of the OV10.
| | |
| --- | --- |
| Lunch on the patio at the air base also shows the OV-10 and fire retardant tanks. The HPWREN white panel antenna is visible on the tower in approximately the middle of the photo | |
Introductions and related

Welcome (Randy Lyle, CDF)
Logistics (Ron Serabia, CDF and HPWREN)

First Responders
Earth Sciences
lunch

Jim Hale's (UCSD/SDSC) installation slide show pdf slides

HPWREN update
More Earth Sciences
Astronomy

Scott Kardel (Caltech, Palomar Observatory) ppt slides
Benjamin Alan Weaver (UCB/LBNL) pdf slides
Paul Etzel (SDSU, Mt. Laguna Observatory) ppt slides

Near Earth Astronomy

Scott Wetzel (Honeywell, NASA Satellite Laser Ranging) pdf slides

Ecology, Biology, and Preservation

Melinda Booth (California Wolf Center) ppt slides
Pablo Bryant (SDSU Field Station Programs) ppt slides

Students related
New activities

Susan Teel (NPS, California Mediterranean Research Learning Center) ppt slides

Open Discussions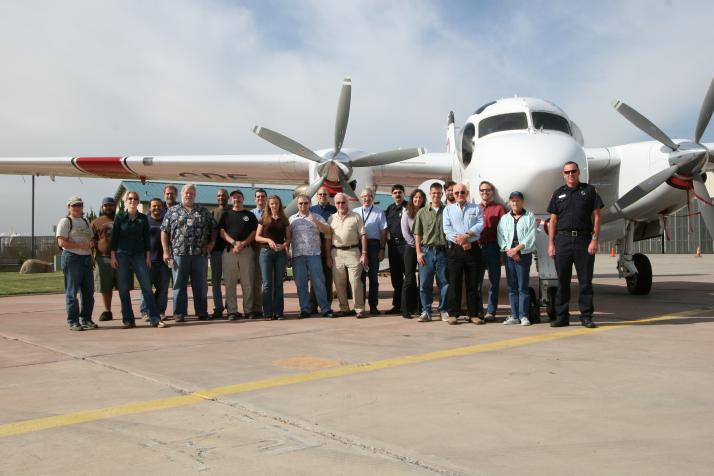 Workshop participants next to the S2 fire retardant tanker 70
The San Diego Supercomputer Center provided support for distributing the workshop via http://www.cichannel.org, including to making it available in real-time to the National Science Foundation, the agency which funds HPWREN. Additional photos can be found at http://archive.hpwren.ucsd.edu/Photos/20061103/.
---
back to top
back to HPWREN news